Intern Chronicles: 5 Takeaways from Working at an AI Startup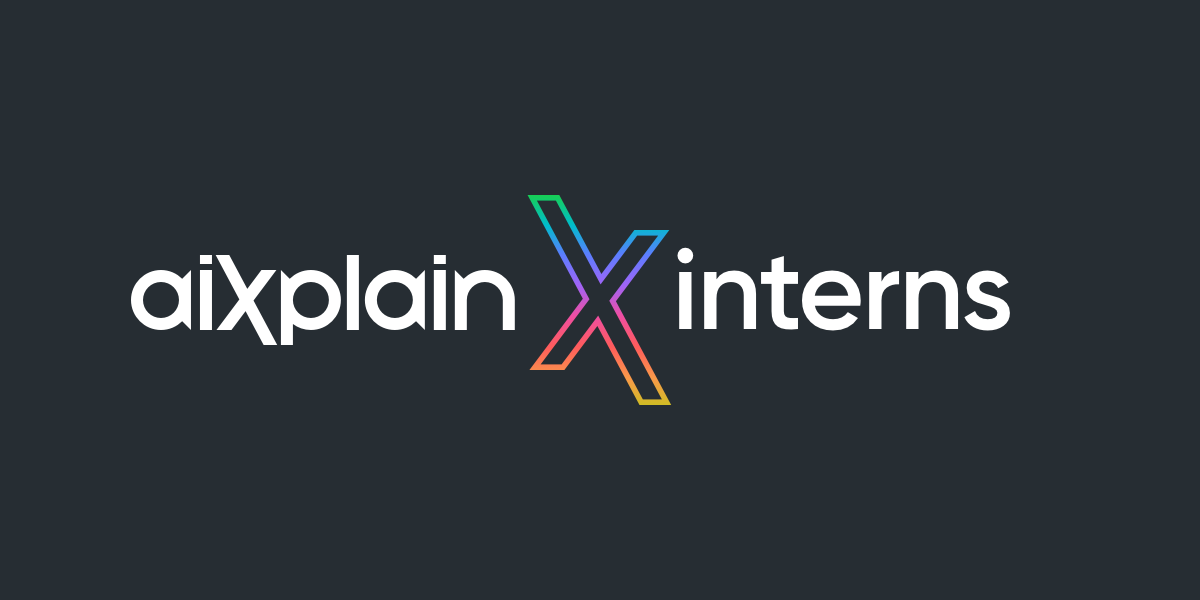 1. Work/Team Environment
In the first week of working at aiXplain, the biggest factor that stands out is the culture and work environment. The nature of the team greatly impacts any organization on various levels, as teams are the key building blocks of a company. The company serves as an example of a positive and encouraging environment. Within our different teams, there are many key themes, such as being open to new ideas, giving or receiving good constructive feedback, providing assistance to fellow employees, etc.
These elements contribute heavily to the workflow of the different teams and departments. Also, this, accompanied by allowing and encouraging employees to have fun while working and showing gratitude towards others, gives the organization a "human" aspect.
2. Exposure to New Things
In light of the many different realms within artificial intelligence, there are certainly a lot of new things happening across industries. Before this internship, my knowledge of artificial intelligence was very limited to the services that the average consumer relies on. For example, our very own digital assistants, such as Siri or Alexa, fall under this umbrella that are AI-powered tools that can follow a range of commands. Throughout this internship, I have been exposed to new concepts, innovations, and technologies present in different industries.
It is an exciting field where AI/ML scientists and engineers are leveraging the power of artificial intelligence creatively to solve problems and offer simplified solutions. There have been many instances where my findings surrounding the different uses of AI in various industries have been surprising. The minds behind the models and algorithms are using artificial intelligence in expected ways. From applications changing the food industry to models tackling man-made issues surrounding the environment, AI is transforming the world around us! This knowledge base helps paint a clear picture of what artificial intelligence truly is, and it's potential instead of believing the false Hollywood narrative.
3. Learning from a Talented Team
At aiXplain, talent is picked from various geographical locations and backgrounds, which contributes to the diversity of the company. The team itself exemplifies one of the core principles of the company respecting and celebrating diversity. Along with this diversity comes knowledge and experience in areas that were originally unknown to me. Their expertise and knowledge offer interns the ideal opportunity to learn a range of different things.
During my orientation, I spoke with different team members where they shared their experiences and detailed their work within the company. I recall a thought-provoking discussion surrounding the dynamics of teams in a startup environment compared to a larger company which helped answer many of my questions.
4. Understanding How a Company Is Built
Many different things simply cannot be taught in a classroom. Many times, learning comes through practice. In this case, learning about the various dynamics that go into the development of a company is one! As an intern, I have witnessed a whole range of processes, from discussion and brainstorming to planning and implementation of ideas. Traditionally speaking, in a classroom setting, students are taught about concepts, strategies, etc, that are supported by countless examples of large corporations and how they do things. However, as college students, we are rarely exposed to startups to better comprehend how businesses start operating. Essentially, this is valuable knowledge and exposure for students as they make their shift from college to work life. Many of these students will go on to starting their own companies, and experiences like with aiXplain serve as a great opportunity to learn.
5. Chance to Get Hands-on Experience
Being a part of the aiXplain team, I was given the opportunity to get hands-on experience giving me the exposure to develop my skills. As a digital marketing intern, my work revolves around the internet with writing blogs, curating content, managing social media channels, etc. This exposure is extremely valuable as the skills developed here will transfer into my future roles. The concept behind internships is to gain relevant experience that helps build your career along with the necessary skills required for your career path. In the span of this internship, I have acquired key skills and knowledge surrounding the digital aspect of marketing.