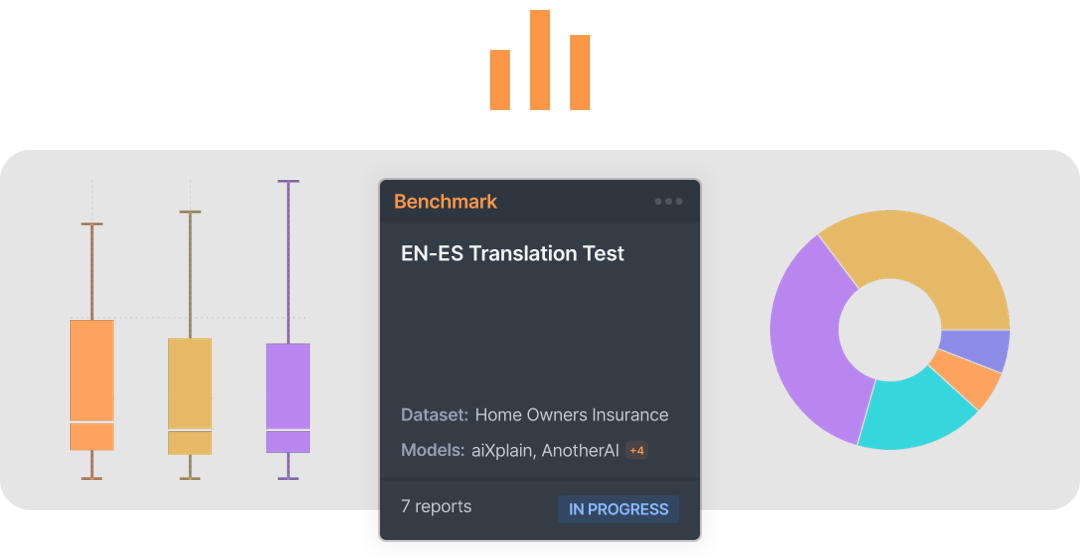 The most effortless

evaluation and diagnosis tool.

Diagnose AI systems by continuously measuring and comparing their performance.
Benchmark provides an easy and fast way to evaluate the performance of AI systems based on user-defined performance metrics. Start a job within seconds and create an accurate, comprehensive, and interactive report that allows you to diagnose and compare AI systems continuously and efficiently.
How Benchmark works
in 4 simple steps
Configure

Run

Analyze

Iterate
Configure your Benchmark
Populate your evaluation dataset, models, metrics, and other configurations to prepare your job.
Run the job
Start the Benchmark job with a click of a button.
Analyze the report
Diagnose the performance of the models through the Benchmark report generated.
Iterate
Rerun Benchmark jobs to monitor model changes or create a new job to evaluate models with different metrics and datasets.
Supported functions in Benchmark
Offensive language identification
Start benchmarking instantly
Create a Benchmark job in a single step with our no-code user-friendly interface.
Continuous feedback
You don't have to wait until the Benchmark job is complete to view the report. You can check the report at any time.
Comprehensive reporting
Obtain easy-to-interpret granular insights on the performance of models for quality, latency, footprint, cost, and bias with interactive Benchmark reports.
Cost-optimized
Benchmark offers the most cost-optimized evaluation tool in the market with no required subscription. Pay for each report generated individually with no commitment.
Advanced filtering
Reports are equipped with advanced filtering options to provide better insights for your models.
Derive datasets
Generate derivative datasets based on your specified filters to analyze the data further.
Watch the demo video

to see Benchmark in action!

Find out if Benchmark helps your business in any way.